Tim Pegler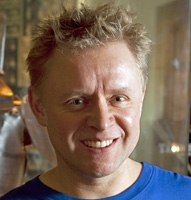 What do you love about reading?
Total immersion in another world for a while.
What were some of your favourite books growing up?
To the Wild Sky (Ivan Southall), The Lord of the Rings trilogy, Tintin books, Asterix books and anything by John Wyndham.
Where do you get your ideas for most of your books?
Newspapers, history books, watching, listening and imagining.
If you spent a day in the life of a book character, who would you be and what would you do?
I've already spent more than 10 years trying to be a reporter like Tintin!
A world without books would be…
A world where people didn't understand how much we have in common under our skin.
My first memory of reading is...
…hazy but it's under a doona with a torch after lights out.
What do you love most about your job?
Letting my imagination off the leash.
Who or what was your biggest influence in deciding to become a writer/Illustrator?
The author Ivan Southall wrote me a fantastic letter during primary school. Teachers, librarians and family were also encouraging.
What subject did you enjoy most at school... and least?
No contest. English and Maths.
The scariest book I've ever read is...
The Shining by Stephen King
A book that made me laugh aloud was...
Bill Bryson's The Lost Continent
The three books everyone should try and read in their lifetime are...
Only three? The Lord of the Rings (I'm counting that as one book); The Book Thief by Markus Zusak; Jasper Jones by Craig Silvey
If I couldn't be an author, I'd be...
A journalist or landscape designer
What is your favourite food and least favourite?
Christmas pudding with custard and vanilla icecream. Worst? Tinned asparagus sandwiches are like phlegm in bread.
Do you have a pet?
I have a talking cat called Ziggy.
What is one interesting fact about yourself that nobody else would know…
I'm an open book.
For more information see Tim's website (www.timpegler.com.au)