Sally Rippin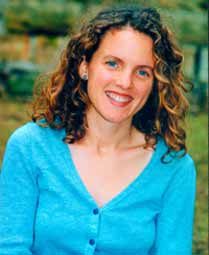 Which character from a book would you most like to meet or to be?
I think one of my favourite book characters is six-year-old Eloise, who lives in the New York Plaza Hotel. She is so fabulously naughty and lives in this terribly posh hotel and bosses all the staff around. I spent a lot of time in hotels when I was growing up, but I was always such a painfully good girl, so I loved reading about children who didn't do what they were told!
Where is the best place to read a book?
In bed, definitely, preferably in the middle of the afternoon.
What were you like at school?
Always painfully well behaved and studious, but also a bit of a daydreamer. Anything going on in my head always seemed a hundred times more interesting than what was happening in the classroom (or the sports field, or the tram, or the walk home…).
What are your hobbies?
I've always found this a tricky question because the things that I love doing most are also my work - reading, writing, drawing, hanging out with my kids. I always feel very lucky to be able to say that, though.
Do you have any pets or kids?
Three energetic boys and a lazy rabbit called Bruno.
What is your most treasured possession?
My thirty-seven year old toothbrush – I've had it since I was born and use it every day. Only kidding. Probably the only possession I'd notice if it disappeared would be my laptop, and that's only because I'm too disorganised to back up any of my work!
What book would you take to a deserted island?
A notebook. And plenty of lead pencils.
Your words of wisdom to students completing the Premiers' Reading Challenge?
Reading should always be a pleasure. If you've stumbled across a book that feels like you're pushing your brain through a sieve just to read it, grab another one – there are millions more! Sometimes it's just a matter of timing, too. You might pick that same book up a few years down the track and absolutely fall in love with it.
You can visit Sally's website (http://www.sallyrippin.com/) to find out more.