Michael Panckridge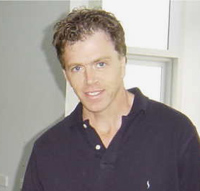 Which character from a book would you most like to meet or to be?
I used to love reading books about famous sports people, especially footballers and cricketers. To me they were characters and real. In summer I wanted to be Ian Chappell; in winter I wanted to be Doug Wade.
Where is the best place to read a book?
The best place for me to read a book is in bed. All the distractions of the world fade into the background and there is nothing except the world inside the book. It's easy to drift away and really get inside the book.
What were you like at school?
Classically average. I was okay at most things – I loved music and sport. I was good most of the time. It wasn't me who threw the chook eggs at the fence post, but because I watched, I was given the choice of having the cane or not. Guess what I chose?
What are your hobbies?
I wasn't much of a reader until I was about 12 years old. Then I got stuck into Willard Price Adventure books. There hasn't been a day in my life since that I haven't read – well, maybe the time I had my knee operation. But I probably read the hospital menu! Maybe reading for me isn't a hobby, more just a part of life. Anything to do with sport – watching and playing especially. I like going to the movies and collecting things (footy cards and magazines, Wisden cricket books). I like running and I like heaps of different styles of music.
Do you have any pets or kids?
I have two girls aged 12 and 10. We have a golden retriever called Oscar. He is very gorgeous and friendly. We also have five fish (according to the most recent sighting), but there are cats and big heron type birds who stalk the fish pond so the number changes often.
What is your most treasured possession?
When I was 10, I used to get up at 5.30 in the morning to meet the baker who delivered bread once a week to our house. He would always give me a Sunicrust footy card, clean and smelling of bread crumbs from his coat pocket. I have about 30 of the cards. They are very special to me.
What book would you take to a deserted island?
I would take a Wisden. It is over 1000 pages long and full of scores, pictures, statistics, summaries, masses of cricket trivia, records and information. Even the ads are cool (cricket bats, mags etc). Every day would be a new day of reading and finding out and all on my favourite topic of all time – cricket! As long as I was rescued after 1234 days, but if not, I'd just go back to the beginning and start again.
PS. I'd also maybe have a copy of The Lord of the Rings in my inside pocket. (I have BIG pockets.)
Your words of wisdom to students completing the Premiers' Reading Challenge?
First of all, it's awesome that you're doing it. Every little word, on every medium sized page of every big (or little) book you read is a small, then medium sized then big step on the journey of being a better, wiser and more interesting person – neat huh?
For more information see Michael's website (http://www.michaelpanckridge.com.au).