Wendy Orr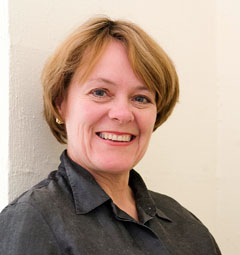 Which character from a book would you most like to meet or to be?
I always wanted to be Nancy in Swallows and Amazons by Arthur Ransome- she was brave, "ruthless" and competent - which I wasn't.
Where is the best place to read a book?
At the kitchen table while eating breakfast. At the sink while brushing teeth. In bed when you wake up too early to get up. Anywhere anytime you're not doing something else.
What were you like at school?
I fluctuated between trying to learn to fit in to a new school environment, (I went to eleven schools), and doing my own thing, because I never got too involved in the different cliques and gangs.
What are your hobbies?
Hobbies always make me think of something you make with lots of glue, and I never remember to buy glue. But when I'm not writing or reading, I go for walks, do tai chi, catch up with friends, have coffee, work in the garden. And my husband gave me a boogie board for my birthday but I've only used it twice - is that enough for a hobby?
Do you have any pets or kids?
We have two kids who are grown up now; James lives in Sydney and Susan lives in Melbourne. However, Harry the garden-digging, ball-chasing, fun-loving poodle-cross still lives at home so they have to come to visit us quite often. Harry is a rescue dog, and was part of the inspiration for Rainbow Street Pets.
What is your most treasured possession?
My teddy bear named Peter. He's 80 years old - he was my dad's first, then mine, then my son's, and now he sits on the couch in my office and watches me work.
What book would you take to a deserted island?
I'd have to cheat and take a big collection that would be so heavy I couldn't even lift it. Or a very fat blank notebook, if I could have a pen too.
Your words of wisdom to students completing the Premiers' Reading Challenge?
Think of it as a challenge to enjoy reading, not just to read more books. Give new books a try because you never know where they'll lead you - but if you really hate a book, you don't have to finish it. It's a horrible truth that you're never going to be able to read every book in the world, so you might as well choose ones you like.
For more information see Wendy's website (http://www.wendyorr.com).