Alison Lester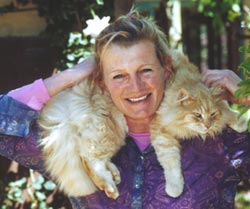 Which character from a book would you most like to meet or to be?
I'd like to be John Grady Cole, heading down to Mexico on his favourite horse, in All the Pretty Horses by Cormac McCarthy.
Where is the best place to read a book?
I love reading in bed. I often wake up in the middle of the night and hop into another bed so I can read without disturbing my husband, Eddy. All our kids are away from home now, so he never knows where he'll find me in the morning.
What were you like at school?
I was brainy and good at sport but I'm ashamed to say I think I was a bully.
What are your hobbies?
I love running and riding my horse. I've got two horses so I usually ride one and lead one, and three of our dogs come as well. There are not many cars on the roads around here.
Do you have any pets or kids?
I've got two horses, four dogs and three kids; Will is 27 (he's in Cornwall in England), Clair is 23 (she's in Peru) and Lachie is 21 (he's at kick boxing camp in Thailand).
What is your most treasured possession?
My kids, though I don't own them and my horse. There's no possession I couldn't live without. When we have bushfires near home I always send my photo albums into my husband's work.
What book would you take to a deserted island?
I'd take something huge, like a big collection of contemporary American fiction.
Your words of wisdom to students completing the Premiers' Reading Challenge?
Practise reading until you are good at it, that way you always have somewhere to go, where ever you are.
For more information see Allen and Unwin's web page about Alison (http://www.allen-unwin.com.au/authors/aplester.asp).