Terry Denton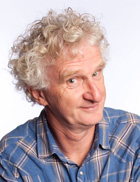 Which character from a book would you most like to meet or to be?
I always wanted to be Long John Silver… just so I could talk pirate.
Where is the best place to read a book?
On Earth, they float away in space.
What were you like at school?
I was a chatterbox, full of ideas…but painfully shy.
What are your hobbies?
Painting, stoning crows and chasing cats.
Do you have any pets or kids?
I have three of one and two of the other. None of them are house-trained.
What is your most treasured possession?
My children's teeth!
What book would you take to a deserted island?
101 Ways to Cook Sand
Your words of wisdom to students completing the Premiers' Reading Challenge?
Train your dog to read. Then it can do the Challenge and you can eat dog biscuits all day.
For more information see Terry's website (http://www.terrydenton.com).